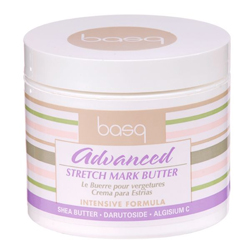 This rich butter offers the most advanced solution for stretch mark prevention and repair. Darutoside and Algisium C are powerful ingredients proven in clinical testing to combat stretch marks, promote resiliency and strengthen skin. In addition, these ingredients have been shown to visibly reduce the appearance of stretch marks and promote healing. The blend of Shea and Jojoba butters provide rich, creamy nourishment to stretched skin with a buttery texture women love. Borage, Rosehip and Grapseed oil work with the skin's natural hydrating process to absorb deeply where skin needs it most. These oils are well known toners and perfect post pregnancy.

Use twice daily on belly, chest, hips, thighs and lower back.

Wonderful aroma that blends beautifully with Resilient Body Oil. Use over oil or alternate day and night for the most intense skin protection.