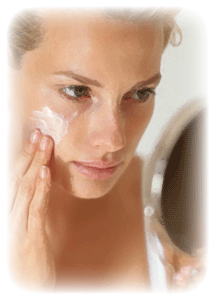 Importance of Moisturizers
Moisturizers are the final step in a facial or during the everyday skin care regimen. They serve to lubricate, protect, and seal in the body's natural moisture from harmful elements in the environment, such as the sun, air, and water. The ideal moisturizer should have the ability to form an invisible protective shield to retain moisture at a precise level. Properly moisturized skin will appear supple, smooth, elastic, and have a healthy, youthful glow.

Types of Moisturizers
Day Creams - An oil in water emulsion that is water-soluble. Ingredients such as Collagen and Hyaluronic Acid are commonly used. It may also contain botanicals, vitamins and sun protection. These creams are lighter than night creams and allow the skin to breathe without clogging the pores.

Night Creams - A water in oil emulsion that is not water-soluble. Plant and biological oils are common ingredients. These are thicker and heavier moisturizers than day creams so that they will nourish and hydrate the skin during sleep. It usually has a high concentration of super-active ingredient to penetrate the epidermis.
Selection of a Moisturizer
When you are selecting a moisturizer you should consider several factors. First, you should look for the appropriate moisturizer for your skin type. Those with dry and mature skin will find moisturizers for their type contain ingredients that foster the skins moisture content, as well as, repair and return elasticity to the skin. These moisturizers are not suitable for oily/unclean and acne types. The appropriate moisturizer for these types will contain ingredients that will act as astringents and serve to tighten the pores, while balancing the skins moisture content.
You should also consider moisturizers that will offer sun protection if you will be exposed to outside conditions on a regular or lengthy basis. Moisturizers with SPF are especially recommended for those who use glycolics, since skin is more delicate and prone to damage from resurfacing treatments.
Use of a Moisturizer
After complete cleansing and toning, apply your moisturizer in a thin layer on the facial and neck areas. Use gentle upward circular motions to rub into the skin. If you plan on an application of make-up, it is recommended that you wait several minutes for the skin to fully absorb the moisturizer. If there is an excess after this time (the skin appears to be too shiny or wet), blot the skin gently with a disposable tissue. Then apply make-up as usual.