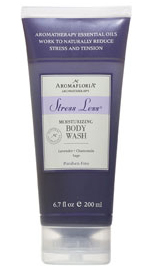 Stress Less features lavender, chamomile and sage to ease anxiety and nervous tension as well as relieve physical strain. These natural, preservative-free products rejuvenate and nourish skin while helping to restore balance with aromatherapy.
Wash away anxiety and pressure during a steam-filled shower with Stress Less Body Wash. The perfect remedy that brings serenity to your body and mind.

How to Use: Squeeze a small amount onto a sponge and work into a rich lather and de-stress the day before it begins.
Size: 6.7 oz
PRICE: $9.99