A tightening facial mask of pure Aloe Vera gel and bolus alba (white clay).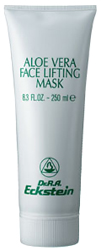 A clay mask for dry, mature skin. Aloe Vera Gel contains powerful precious ingredients including enzymes, vitamins, and amino acids that work in combination to moisturize and revitalize. Bolus Alba, a natural soft white clay, refines the pores and smoothes the skin's surface. Also includes aromatic oils of Palmarosa, Sandalwood and Rose. For best results, use with the Face Lifting Basic Concentrate.
Instructions: After cleansing, apply a thin layer of mask to face and neck area. Wear for 10 to 20 minutes. Rinse off with warm water (a sponge or washcloth may be needed). Follow with toner to ensure complete removal of mask. Finish with desired serum and moisturizer. For best results exfoliate and steam skin prior to mask treatment. This action allows the pores to fully open and be receptive to the product. May be used twice weekly. Read more about Home Facials.
Size: 8.3 oz
This item is intended for Skin Care Professionals only.