Toner for dry and sensitive skin types.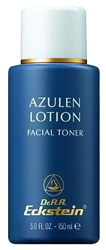 A gentle toner for delicate, sensitive and dry skin. Azulen lotion provides optimal care to refresh and balance irritations in the complexion. Active ingredients of Azulene, Chamomile extract and Panthenol calm and normalize, while protecting and strengthening delicate skin.
Instructions: After cleansing, while skin is still damp, apply with a cotton pad to face and neck area. May be used twice daily.
Size: 5.0 oz

PRICE: $19.50