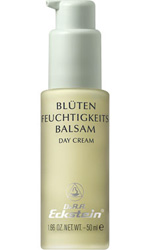 *Formerly known as Bluten Feuchtigkeit Supreme;
This product has new packaging, but the formula remains the same.
A light, stimulating day cream for normal, young and combination skin. Wheat Germ extracts tighten and smooth the skin, while essential blossom oils enliven and refresh. The natural UV filters of this cream from Micronized Titanium Dioxide reflect and absorb harmful rays. This cream provide an ideal base for a matte makeup finish. Also contains Vitamins A + E and natural plant extracts.
Instructions: After cleansing and toning, apply a thin layer to face and neck area.
Size: 1.7 oz
PRICE: $25.99