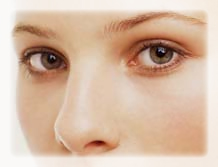 The area around the eyes is extremely delicate and needs careful conditioning. For day time use, Dr. Temt recommends gels which are light in formula and tend to be regenerating, moisturizing and stabilizing. For night, a cream is richer and more nourishing. Less is more is the Dr. Temt approach to eye care. All products are designed to protect and repair while avoiding irritation.
---
EYE SERUM GEL
A light, hydrating treatment for all skin types. Due to its rich content of liposome concentrate, this serum gel repairs, nourishes and hydrates the skin around the eyes. Apply in a thin layer while gently massaging with fingertips. May be used twice daily.
| | | |
| --- | --- | --- |
| SIZE: 1.0 oz | PRICE: $47.99 | |
---
SERICIN (SILK) EYE CREAM
A rich moisturizing treatment designed for the delicate eye area. A combination of sericin, squalene and glycerine smoothes, nourishes and hydrates to minimize fine lines and wrinkles. Apply a thin layer around the eyes. Ideal for night use, however may be used during the day for those that require extra hydration.
| | | |
| --- | --- | --- |
| SIZE: 0.5 oz | PRICE: $40.99 | |
---
VIENNA EYE CREAM
Dr. Temt Vienna Eye Cream is an ointment, which doesn't contain water, successfully combats fine lines and wrinkles. Ingredients includes rose oil, almond oil, beeswax and lanolin. It calms, regenerates and protects the delicate eye area. For all skin types, but ideal for dry and mature skin. Apply in a thin layer around the eyes morning and evenings or whenever necessary. May also be used to soften dry, chapped lips.
| | | |
| --- | --- | --- |
| SIZE: 0.5 oz | PRICE: $44.99 | |