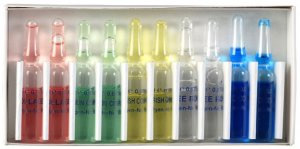 A 6-week treatment regimen for dry, damaged and mature skin types, this set of unique ampoules contains an intense concentration of ingredients designed to remarkably improve the skin's elasticity and texture. Every box contains 2 each of the following:
Instructions for Use:
Use 1 ampoule each day for 5 days, then use one ampoule per week for 5 weeks. Ideally to be applied while using steam. Learn more about using ampoules. The effects of the treatment are intensified with the use of Moisture Cream with Epidermin. Allow contents of the capsule to be completely absorbed before applying moisturizer.
Size: .07 oz x 10 ampoules
PRICE: $83.99