Enjoy the beauty of natural air purification with these salt rock crystals.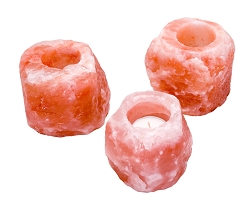 Discover the positive effects of negative ions. Create a soothing atmosphere while cleansing the air with beautiful Salt Lamp Tea Light Holders. These natural, unique mined salt rock crystals emit negative ions that are produced by nature during a thunderstorm or up in the mountains near waterfalls, as well as by the sea. These lamps ionize the air in a natural way similar to the modern machines for air purification. Negative ions also increase energy by combating positive ions produced by florescent lights, computer screens and pollution. Negative ions improve our environment and enhance our health.
These candle holders create a gentle glowing light that provides a soothing ambience in any room. Ideal for use as a night light, for meditation, in the office, or anywhere you want to improve air quality. Recommended for allergy sufferers, smokers, and small spaces. Hand-carved from natural salt crystals and the exact shape and color/appearance will vary for every candle holder.
Each salt lamp candle holder is sold individually. Size is 3" to 3.5" in diameter x 3.5" height. Weighs approximately 1 to 2 lbs.
PRICE: $24.99