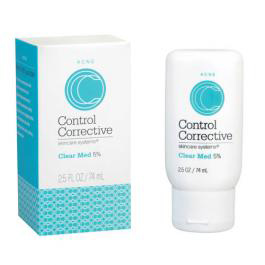 Formerly known as Clear Med II. Name change as of 03/11.
A dynamic combination of sulfur enhanced benzoyl peroxide penetrates deeply to loosen pore-clogging debris and hardened oils. Its anti-bacterial action is aimed at reducing inflamed lesions and mild breakouts. Ideal for dry to normal skin with light to moderate acne.

Instructions:
Apply to clean, dry skin 1-2 times daily. Avoid eye area. If irritation occurs, reduce strength or length of time the product is left on the skin. *Contains Benzoyl Peroxide – Always patch test on small area of neck 24 hrs. prior to 1st treatment.
Attention! Due to manufacturer's policy change we are no longer able to offer the individual sales of certain product sizes. 2.5 oz bottles are now only sold in packs of 3. Sorry for the inconvenience.
Sample
$1.10
2.5 oz (pack of 3)
$95.99