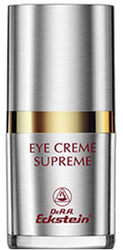 A highly nourishing night cream for the dry and sensitive eye area. Eye Cream Supreme is rich in natural lipids, moisturizers, antioxidants and specific active ingredients to care for the eye area. These ingredients provide the skin with moisture, and support the elasticity and firmness of the skin. The appearance of dark eye circles is visibly alleviated and the formation of lines and wrinkles is minimized. It protects against external factors that promote premature aging. May also be used to treat the delicate skin around the lip area.

Contains Hyaluronic acid, phytosterols, wheat germ extract, panthenol, bisabolol, Vitamins A and E and troxerutin. Free of perfume oils, artificial colors, mineral oils and silicone oils.
Instructions:
Gently apply the cream around the eye area, allow it to be absorbed or massage in carefully. May also be applied above and around the outside of the lips.
Size: 0.5 oz
PRICE: $74.99