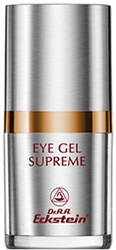 An intensive moisturizing gel for all skin types concentrated with liposomes and nanosomes to tighten and revive the delicate skin around the eye area. Eye Gel Supreme is oil-free, non-greasy and absorbs quickly into the skin making it an ideal base for make-up. It helps refine the skin and improve it's elasticity and structure, while providing effective protection and moisture. With regular use the appearance of dark circles is visibly reduced and the formation of lines and wrinkles is minimized, making the eyes appear brighter and younger.
Contains Hyaluronic acid, Vitamin E, Lecithin, Glycosphingolipids, Glutathione, Bisabolol and ATP. Free of perfume oils, artificial colors, mineral oils and silicone oils.
Instructions:
Gently apply the gel around the eye area, allow it to be absorbed or massage in carefully.
Size: 0.5 oz
PRICE: $53.99