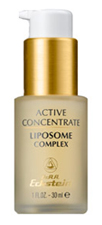 A new biological cosmetic product based on sphingolipids and other active natural ingredients which ensures deep penetration of active ingredients.
Who should use Dr. R.A. Eckstein Liposomen Complex?
Skin of any age will show an improvement after treatment with Liposomen Complex. This gel serum helps preserve the youthful appearance of young skin under 25, it revitalizes mature skin and most importantly, it helps to repair damages from harmful environmental influences.
Dr. R.A. Eckstein Liposomes, with their valuable ingredients, are quickly absorbed deep into the skin where their affinity with the intercellular fat causes them to dissolve and release their contents into the barrier. The cells of the skin are regenerated, cell and tissue structures are strengthened, the skin becomes smoother and small lines and wrinkles diminish. The resulting enhancement of the skin appearance has been proven in numerous scientific tests.
Ingredients include:
Wheat germ extract to vitalize the skin and improve its metabolism
B-complex vitamins to stimulate cell function
Mannite and Hyaluronic Acid to effectively moisturize the deeper cell layers
Instructions: For use up to twice daily after cleansing and toning. Follow with moisturizer.
Size: 1.0 oz

PRICE: $87.99