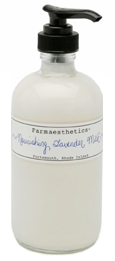 Voted "Favorite Organic Product" by Harper's Bazaar's beauty editor, our light, luscious, all-over complexion lotion, is gentle enough for everyday use on the face, yet powerful enough to use on even the driest skin conditions. It's vibrant, clean, natural fragrance is addictive, and it's skin-mending properties are undeniable. Nourishing Lavender Milk is gentle enough for use on a child, yet powerful enough to be used by the world's leading spa professionals in facials and body treatments alike. Created for use on the face, but so divine, that many slather it all over their body- and why not? A beautiful complexion does not stop at the face.
APPLICATIONS & BENEFITS:
An herbal combination that feeds the skin, moisturizing and conditioning the face, body (& baby!)
Soy oil evens skin tone, softens fine lines and is light but emollient
Calendula offers powerful properties to heal & mend skin even on those with scars, inflamed skin conditions, chapped, severely dry skin or those with skin damage or sensitivities resulting from laser surgery
Totally free of synthetics, it is safe for use on all age groups
Perfect under makeup as it leaves the skin hydrated, but with a matte finish
Safe for use on those with nut allergies
Great for use in massage, having lots of "slip" for easy application
Best used on damp, warm skin
Farmaesthetics products are 100% natural & contain certified organic ingredients as indicated. Certified hypo-allergenic, non-irritating & dermatologically tested, with a certified with a 2 year shelf life & no animal testing.
8 oz
$41.99
33.8 oz
$157.99