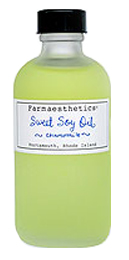 Soy is recognized for its ability to even skin tone and its moisturizing properties are undeniable. In these oils, soy will keep skin supple, smooth and it's a healthy best at any age or stage of life.
Choose from 4 unique oil blends:
CALENDULA & ORANGE OIL
Spicy warm goodness to stimulate circulation and ease fatigue.
CHAMOMILE & LEMON BALM OIL
Calms and soothes inflammation or irritation of both skin and nerves.
LAVENDER OIL
Penetrates and regenerates skin cells damaged by weather, environment or age. Also relaxes and relieves tension.
PINK GRAPEFRUIT OIL
Brightens the skin, enhancing and restoring a healthy glow to the whole body complexion.
APPLICATIONS & BENEFITS:
Clean, simple herbal treatment oil for moisturizing & conditioning the complexion of the face & body
Gorgeously emollient when used in the bath or applied after shower as body oil
Safe & relaxing to use on elderly, pregnant or post-par term women, as it is totally free of synthetics, making it safe for use on all age groups & conditions, even those with nut allergies
Great for use in massage, having lots of "slip" for easy application
Best applied on damp, warm skin
Soy has the added benefits of phytoestrogens, said to have balancing effects on the system
Gentle enough to use on the face, especially after exposure to harsh weather conditions
Farmaesthetics products are 100% natural & contain certified organic ingredients as indicated. Certified hypo-allergenic, non-irritating & dermatologically tested, with a certified with a 2 year shelf life & no animal testing.
Size: 4 oz
PRICE: $25.99