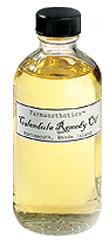 These highly specialized, non-aromatic herbalists' formulations are prepared by hand with organically grown herbs. Unlike typical massage & bath oils made with herbal extracts or aromatic essential oils, Farmaesthetics' Remedy Oils are infused with real herbs. The herbs we choose undergo a traditional infusion process, allowing time to garner the healing properties inherent in each. The result is significant when used in hot bath soaks & external massage and absorbed through the skin. The benefits of each of the five types are unique and profound.
Bath Soaks, Massage or Benefit Booster to any lotion- Adding 1-2 tablespoons of desired Remedy Oil to our Nourishing Lavender Milk or Nourishing Herbal Cream will super-charge the preparation to target specific conditions
ARNICA IN SOY OIL
Highly regarded in herbalism for its ability to diminish bruising, swelling or inflammation in skin tissue.
CALENDULA IN SWEET ALMOND OIL
Made from nature's most powerful skin-mending flower, the Calendula herb promotes effective repair to over-exposed skin and is a preventative when used before exposure to the elements. Also recommended for facial use.
HYSSOP IN SWEET ALMOND OIL
Used in the treatment of muscle and neck tightness that is associated with stress, overwork or throat soreness due to vocal strain.
LEMON BALM IN SWEET ALMOND OIL
Known for cooling and restoring a depleted, exhausted system for those who are over-extended, anxious or unable to sleep due to stress.
NETTLE IN SWEET ALMOND OIL
Effective oil for those with eczema or nervous onset skin irritations. Excellent for dry, flaky scalps and for thinning, balding hair.
Farmaesthetics products are 100% natural & contain certified organic ingredients as indicated. Certified hypo-allergenic, non-irritating & dermatologically tested, with a certified with a 2 year shelf life & no animal testing.
Size: 4 oz
PRICE: $24.99