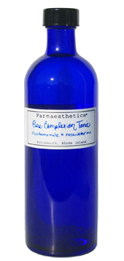 The traditional beauty "lotions" used in daily facial skincare regimens of women in the 1920s and 30s. Our version of this tried and true beauty preparation consists of 5 herbal ingredients known to soothe, soften, cleanse and purify the complexion. Perfect for normal to oily skin or for skin experiencing breakouts and congestion.

APPLICATIONS & BENEFITS:
Purifying Toner for use after washing face, to complete the cleansing process. A gentle traditional beauty formula, leaving the skin clean and conditioned and ready for a moisturizing application as needed
Troubled Skin Tonic to help prevent and/or treat skin flare-ups, even those associated with acne. This combination of herbal ingredients helps the skin combat oily patchiness, blotchiness, blackheads & breakouts… and actually serves to heal existing blemishes
Daily Treatment for Balancing the skin by effectively removing excess oil. Use only on occasion if skin is very dry, whether seasonally or from dry or mature skin types
Mix with Farmaesthetics Rosehip & Clay Mint Mask to create a powerfully purifying extraction mask, to clear congested pores and aid in healing blemishes and black heads
Farmaesthetics products are 100% natural & contain certified organic ingredients as indicated. Certified hypo-allergenic, non-irritating & dermatologically tested, with a certified with a 2 year shelf life & no animal testing.
Size: 4 oz
PRICE: $26.99