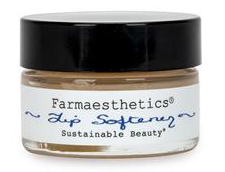 Our luscious lip treatment is 100% effective, and 100% natural. Finally a lip product that tastes good, looks good, feels good, is good… all without any artifical ingredients. Loaded with herbs and oils to heal and accentuate, this preparation is full of Calendula to strengthen & mend delicate tissue of the mouth. Used regularly, it will prevent the cracks and discomforts of dry, exposed lips and will ward off fine lines & creases that begin to appear with illness or age. It is an excellent treatment before & after exposure to dry heat, chlorine, sun or severe weather conditions. Iron oxide & mica add a hint of healthy color. Mint freshens the breath & cools the mouth. And the vitamin C, they say, can actually plump the lips…mmmmm.
APPLICATIONS & BENEFITS:
Use as treatment for lips at night
Softens chapped, dry lips
Imparts a natural healthy color to the mouth
Speeds up healing of lips that have been damaged from fever blisters or cold sores, extreme fever or weather conditions
Farmaesthetics products are 100% natural & contain certified organic ingredients as indicated. Certified hypo-allergenic, non-irritating & dermatologically tested, with a certified with a 2 year shelf life & no animal testing.
Size: 0.5 oz
PRICE: $22.00