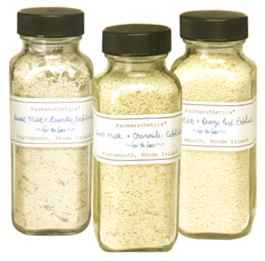 Milk has been used throughout the ages to enhance beauty. It is well known that even Cleopatra used sweet milk for beautifying and brightening her complexion. Traditional rural cultures have also used sweet milk in beauty treatments, making it as familiar on a dressing table as in the kitchen cupboard. When mixed with Fine Herbal Cleanser, our pristine herbal exfoliate makes a creamy, freshly fragrant lather that is easily applied, to remove tired skin cells. Gentle enough to use in daily cleansing, or apply weekly as a "mask", to further the effects of the milk's natural lactic acid to soften, brighten and revive the complexion.
Choose from three types: Sweet Milk & Lavender Bud (Normal/Combination skin), Sweet Milk & Orange Peel (Oily skin) or Sweet Milk & Chamomile Flower (Sensitive skin).
APPLICATIONS & BENEFITS:
Natural lactic acid in dried sweet milk combined with fine cornmeal and crushed lavender buds, provides a gentle exfoliate for the face & décolleté
Mix with our Fine Herbal Cleanser and apply in circular motion to face and neck and leave on for as little as 3 minutes to see immediate visible benefits
Use while bathing & when time to remove exfoliate from face, splash clean, & then gently slip shoulders beneath water, allowing the sweet milk mixture to become a skin-brightening milk bath
For a milder exfoliate we recommend our Sweet Milk & Chamomile Flower exfoliate. Great for sensitive skin
For a more aggressive exfoliation. we recommend our Sweet Milk & Orange Peel exfoliate. Great for oilier complexions.
Farmaesthetics products are 100% natural & contain certified organic ingredients as indicated. Certified hypo-allergenic, non-irritating & dermatologically tested, with a certified with a 2 year shelf life & no animal testing.
Size: 4 oz
PRICE: $27.50