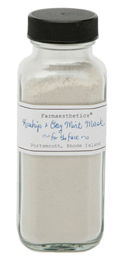 100% Natural Vitamin C Infusion & Extraction Mask to Purify & Decongest the Skin.

A potent blend of organically grown peppermint leaves & rosehips, working together with kaolin clay, to wick away oil & bring down inflammation—especially good for minimizing pore size & spot-treating breakouts. Peppermint also cools the skin, settling irritation, while organic rosehips, nature's most potent source of Vitamin C, infuses the skin with restorative benefits in it's most accessible whole herb form. Nature's perfect mask to decongest, deeply cleanse the skin, cool and calm all skin types. (Oilier complexions should leave mask to dry, normal to dry skin, should remove with warm water before mask has set).
APPLICATIONS & BENEFITS:
Simply mix ingredients with cool spring water creating a paste. Apply to entire face and let dry to tingling then remove with water
A stimulating extraction mask that will freshen and purify normal to oilier complexions. The perfect herbal combination to soothe and settle the skin, helping to reduce inflammation & puffiness
Mix with our Pure Complexion Tonic, instead of spring water, to add additional astringent properties of witch hazel, rose essential oil & chamomile. A powerful combination to decongest the skin
Mix small amount of mask and apply directly to troubled spots, targeting blemishes, for speed-healing breakouts & areas experiencing excessive oiliness
Farmaesthetics products are 100% natural & contain certified organic ingredients as indicated. Certified hypo-allergenic, non-irritating & dermatologically tested, with a certified with a 2 year shelf life & no animal testing.
Size: 4 oz
PRICE: $30.00