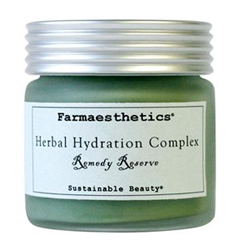 This refreshing, cooling mask lifts dead cells, infusing tissue with healing herbal ingredients that bathe the skin in moisture, while eliminating excess oil.

Created for professional use, but best when used regularly and often in your weekly regimen, the delicious texture (somewhere between a luscious mousse and a cooling gel), engages the senses & envelops the skin in a refreshing beauty boost of 100% natural herbal hydration.

A high level treatment mask to help restore, support and maintain proper moisture levels, while boosting skin's defense mechanisms against environmental damage. Use when skin is inflamed, irritated or imbalanced, or simply to treat skin to a calming, beautifying natural reprieve.

APPLICATIONS & BENEFITS:
Use morning or evening, one to three times per week for optimal results
Reduces inflammation and redness
Restores sunburned, over exposed, or inflamed skin to its natural state of balance
Great for all skin conditions including rosacea, acne, dehydrated, over exposed, mature, weathered & sun damaged skin
Perfect mask for use in maintenance regimen as well as a reparative treatment
Farmaesthetics products are 100% natural & contain certified organic ingredients as indicated. Certified hypo-allergenic, non-irritating & dermatologically tested, with a certified with a 2 year shelf life & no animal testing.