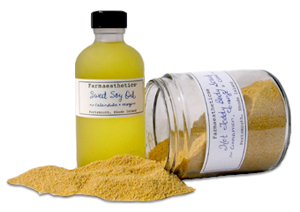 Used for centuries, the smooth, well-rounded cornmeal grains remove dry skin without abrasives that can irritate sensitive skin. Mix the scrub with the companion Organic Sweet Soy Oil to activate the whole organic herb. The powerful duo will bring health and beauty benefits to the body through an external herbal 'poultice' application.
Choose from 4 types:
CINNAMON, ORANGE & CLOVE BODY SCRUB
Organic oranges, clove and cinnamon work in combination with calendula herb in this warming treatment to stimulate circulation, ease fatigue, warm and even skin tone. Recommended to be used with Sweet Soy Calendula & Orange Oil.
CHAMOMILE FLOWER BODY SCRUB
Chamomile and lemon balm calm, soothe and settle inflammation and irritation of skin and nerves. Recommended to be used with Sweet Soy Chamomile & Lemon Balm Oil.
CITRUS MINT BODY SCRUB
Brighten skin with this energizing combination, enhancing and restoring a healthy glow to the whole body complexion. Recommend to be used with Sweet Soy & Pink Grapefruit Oil.
LAVENDER BUD BODY SCRUB
Lavender penetrates and regenerates skin cells damaged by weather, the environment or age while it relaxes and relieves tension. Recommended to be used with Sweet Soy and Lavender Oil.
APPLICATIONS & BENEFITS:
Mix 2 to 3 tablespoons of Hot Toddy Body Scrub with 2 tablespoons of Organic Sweet Soy Oil. Apply in a circular motion to entire body including hands and feet. Rinse in shower.
Finish you body treatment by applying 1 tablespoon of Sweet Soy Oil to warm, damp body. Towel dry.
Treatment is best applied while taking a shower and is gentle enough to use every day.
Farmaesthetics products are 100% natural & contain certified organic ingredients as indicated. Certified hypo-allergenic, non-irritating & dermatologically tested, with a certified with a 2 year shelf life & no animal testing.
Hot Toddy for the Body Scrub
32 oz
$71.99
Organic Sweet Soy Oil
10 oz
$55.99